"Upanup is an amazing team ready to share creative ideas and suggest technical solutions that are realistic and doable. Their team understands the parameters defined by the project. They make sure that these are met accordingly—timing, brand, tone, project features, functionality, and quality. They are ready to listen to the project needs and provide solutions that are within scope."
The Challenge
Our challenge was to create an engaging, exploratory experience, where users can find the EV information that is most relevant to them— be it getting answers to their questions, comparing vehicles, applying for rebates, or planning a road trip. We worked to create a high-quality resource with a ton of information, delivering the website to coincide with BC Hydro's fall advertising campaign.
The Solution
This was a fun, intensive project. Our creative team leveraged our experience designing a web app for BC Hydro earlier this year, and we took an agile approach to creating this brand-new website.
Through in-person meetings and iterative designs, our designers collaborated with BC Hydro's Digital Communications team to craft a distinct look-and-feel for the EV website that corresponds with the strong BC Hydro brand. The atomic design we created has defined components, so in future, their team can combine these components in new ways to build fresh pages efficiently.
Instead of generic images, the website's visuals are purposeful and contribute to learning about EVs. Our designers delivered a library of custom illustrations that can appear in ads and collateral, as well as on the website.
User testing proved design concepts and guided content changes to make sure the most sought-after facts are the easiest to find. Working closely with BC Hydro's content creators, we ensured the information hierarchy reflects how real users scan and absorb content online.
The resource is constructed to work well for people with different goals and interests, taking varied paths through the website. We built interactive tools, like a contest, a fuel savings calculator, and a questionnaire to quickly check your rebate eligibility. Our development team built out the website with flexibility and scalability to meet future needs.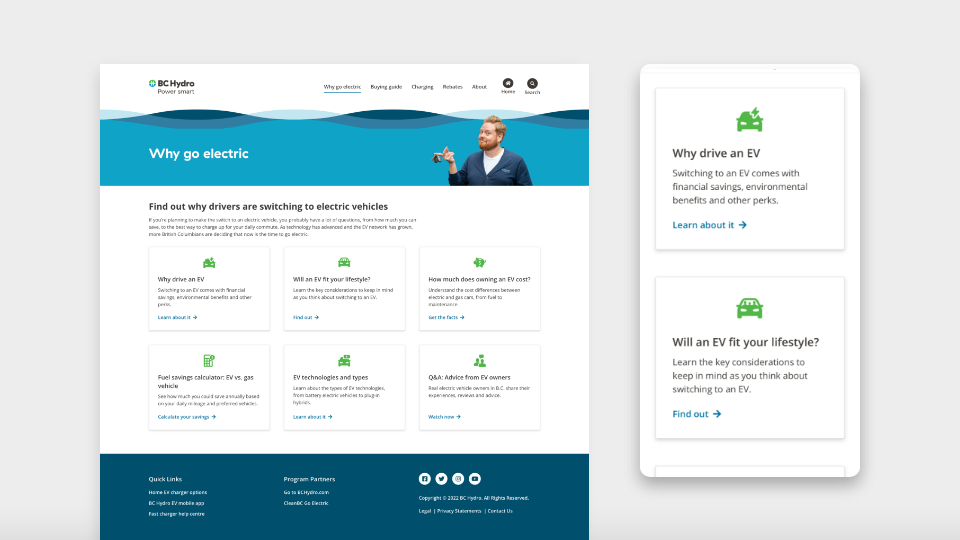 The Results
The result is a dynamic and interactive website that answers common questions, helps people see how much money they can save, and compares EVs available in British Columbia.
One of the most useful features is a personalized calculator that helps you compare fuel consumption between gas-powered and electric vehicles, taking into account your preferences, budget, and daily commute. 
This new resource has received high levels of traffic and positive feedback. In less than two months, the website met business goals and received more than 450,000 visits and over 200,000 contest entries.
Hundreds of thousands of people (and counting!) have visited the website to get information about current rebates, driving an EV, and choosing a home charger, in alignment with BC Hydro's goal to be a trusted EV resource.